La mayoría de personas tienen esta noción de "todo en moderación" cuando de alimentación se trata, es lo más sano. Ese argumento no hace mas sentido que decir que fumar en moderación es sano. Hay cosas que no son sanas por más que se consuman en moderación incluso si formen parte de la dieta estándar de la mayoría de las personas. En este artículo analizaremos si comer carne en moderación es sano/aceptable.
Sabemos desde hace décadas que una dieta basada en plantas nos protege del diabetes. [1] Estudios demostraron que comer carne un día o mas por semana aumenta significativamente el riesgo a diabetes, y mientras mas frecuente era el consumo de carne, mas frecuente los casos de diabetes. [2]
Uno de los estudios de mas alta calidad realizados fue el Adventist-2 study. El estudio encontró que los casos de diabetes disminuían gradualmente mientras más grande el porcentaje de de alimentos de origen vegetal contenía la dieta. Las personas que se alimentaban estrictamente a base de plantas tenían 78% menos prevalencia de diabetes. [3] 
No solo vemos una reducción en diabetes, también hay una reducción en riesgo de otra de las  enfermedades que más muertes causan, la presión alta. Mientras mayor parte de la dieta consistía en plantas, menos ocurrencia de la presión alta. Lo mismo pasaba con el porcentaje de grasa corporal. El único grupo que estaba en el rango ideal de peso corporal era el grupo que se alimentaba exclusivamente en base de plantas.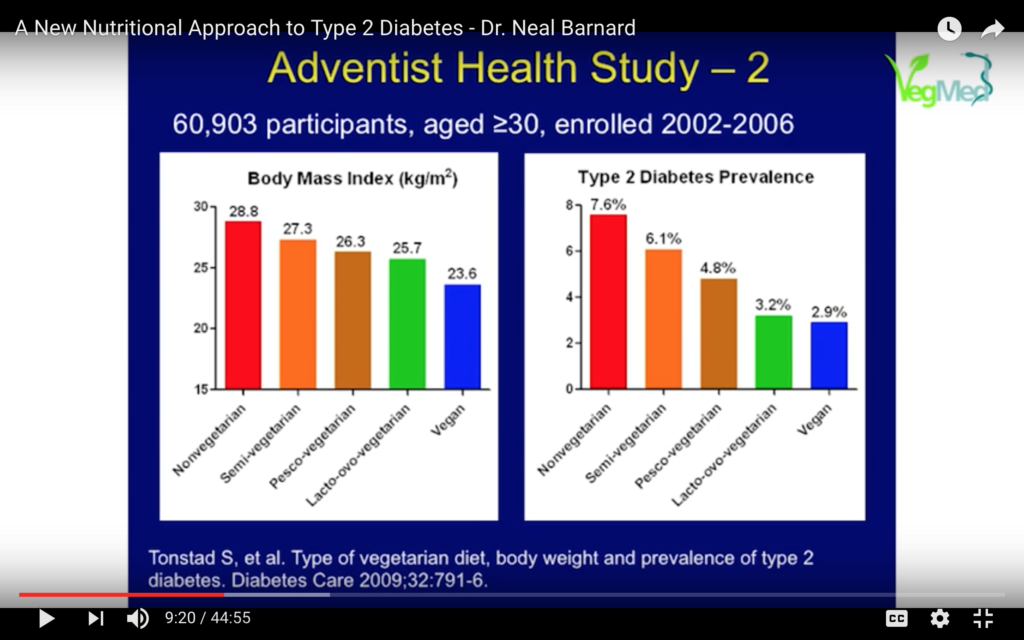 Pero que pasa con carne en moderación? Acaso no podemos comer un poquito de carne ?
Para saber esto veamos un estudio de Taiwan. Se trato de la comparación de budistas vegetarianos vs budistas no vegetarianos. Las mujeres no vegetarianas comían carne o pescado tan solo una vez por semana, y los hombres cada 2 o 3 días.
Nuevamente se ajusto por otros factores como ejercicios, historia familiar, hábitos de fumar, etc. A pesar de ajustar por los todos esos factores los hombres vegetarianos solo tenían la mitad de casos de diabetes y las mujeres vegetarianas solo 1/4 de las ocurrencias.
Que hay de los veganos? Como se compararían los veganos en con estos grupos? Los investigadores quisieron dividir los grupos en base a veganos vs ovo-lacto como en el estudio Adventist-2, pero no pudieron porque no hubo un solo caso de diabetes en el grupo vegano.
Ok después de haber leído a los datos cuestionaría seriamente a mi doctor si me dice que puedo comer carne "en moderación". 
Referencias:
https://www.ncbi.nlm.nih.gov/pubmed/5100965
https://www.ncbi.nlm.nih.gov/pubmed/3985239
https://www.ncbi.nlm.nih.gov/pubmed/21983060
https://nutritionfacts.org/2016/10/11/what-about-eating-just-a-little-meat/

Hi there,
I often learn awesome stuff while reading and it makes me want to share that shit. That's what this site is for, hope you not just learn from it but enjoy it like I do!

Latest posts by Karl Niebuhr (see all)
---
Also published on Medium.