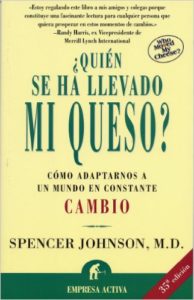 Quien se ha llevado mi queso es un libro que enseña a través de una parábola, como crecer en un ambiente lleno de incertidumbre y cambio.
La parábola trata de dos personas pequeñas y dos ratones que viven dentro de un laberinto, siempre en búsqueda de queso. Cada carácter representa una actitud diferente hacia el cambio, y el queso representa al éxito.
Lecciones
Pensar demasiado en el queso puede paralizarte, es mejor comenzar a buscarlo. Cada minuto desperdiciado en preocupación, es un minuto desperdiciado de tiempo.
Nada es para siempre, así que mantén los ojos abiertos hacia los cambios. En vez de aferrarnos a cosas temporales, nos conviene mas adaptar la actitud simple de los ratones y dejar al lado el pasado para prestar atención a cosas nuevas.
Siempre habrá queso nuevo que encontrar, y el minuto en que comienzas a moverte todo cambiará para bien. Esta última lección enseña que muchas veces los miedos acumulados son peores que los desafíos en si. Y una vez que comenzamos a movernos, las oportunidades nuevas surgirán de cualquier lugar.
Como vemos los tres puntos apuntan hacia la misma dirección, cuando hay tanta incertidumbre que ni nuestros cerebros avanzados pueden crear un plan estratégico, a veces es mejor adaptar la actitud simple de los ratones, que no piensan demasiado si no que se mueven y buscan sin parar, hasta encontrar a su queso.
Espero que se pudo aprender algo de este resumen, no olvides en recomendarlo,
Salud ?
Ah, y sígueme aquí para mas artículos en español

Hi there,
I often learn awesome stuff while reading and it makes me want to share that shit. That's what this site is for, hope you not just learn from it but enjoy it like I do!

Latest posts by Karl Niebuhr (see all)
---
Also published on Medium.