Learn from one of the most successful business  men of history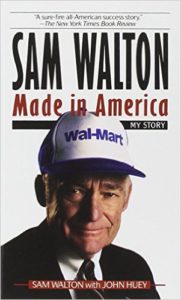 Sam Walton not only was one of the most successful business men of history, he also set an example of intense curiosity and passion.
Sam grew up in during the great depression and learned the value of hard work. Inspired by his mother who ran a milk business, Sam started his first job at an earlier age of eight. He started selling magazine subscriptions in his neighborhood. He continued to work himself up until he expanded enough to hire assistants on his way to becoming a college graduate.
His childhood experience with business taught Sam a key lesson, hard work pays off. With age 27 he was ready to start his next business venture.
Sam's first success principle,  copy good ideas
After opening his first discount store, Walton's 5-10, Sam started observing his competitors. He spent a great amount of time in competitor's stores, closely analyzing how they managed their stores. For example, after noticing that a store in Minnesota had only two dedicated check out counters located in the front with apparently good success, he reduced the number of cashiers in his own store even though in 1940 it was normal for discount stores to have a higher number of cashiers.
Walton never stopped copying good business ideas and he used every trip he took to visit a store of the competition. He even asked the store owners tons of questions which he, of course, jotted down to analyze and perhaps implement later.
Walton's business philosophy consists in using the competition as an engine to thrive. Instead of worrying about the competition, Sam really enjoyed learning from other stores. He closely observed and then experimented with his competitor's methods and strategies. One very successful strategy Sam learned from Kmart was the acquisition of huge quantities of products so that he could get them to a low enough price to run huge promotions which attracted people's attention.
Customer first
Walton always emphasized that the customer comes first. He didn't shy back to adapt his business strategies so that he could offer the biggest varieties of goods for the lowest price while having the longest opening times. Sam received a lot of critique for his aggressive business strategies, for example by putting out of business small town stores. He countered by arguing that the town inhabitants wanted his stores, and they were the ones to decide which store to visit. That if they visited his store it had to be because they offered a better service.
Sam also believed that his customer-first philosophy helped local stores, for example, one owner of a local paint store expressed her gratitude because the recently opened Walmart store gave her more clients. It turned out that the Walmart store referred clients to her store when they couldn't find what they needed at Walmart.
Creating a thriving company culture
Although Walton was very tight-fisted with his employees in the first years, he later started the "associates" program where he not only started to call people who worked for him associates, but he also gave them stock options and bonuses. Walton learned that if his employees were happy, the stores would benefit from it.
The key message of this book: With an attitude full of passion and curiosity there is nothing that can get in the way of your success.
---
Also published on Medium.