En estas semanas probé por primera vez el crowdsourcing para hacer un diseño de Remera para mi Blog. Decidí hacer a través de FREELANCER.COM, una plataforma de crowdsourcing famosa en donde uno puede ofrecer servicios o contratar a los servicios de miles de personas. Se puede contratar a diseñadores, escritores, servicios de venta y marketing, servicios de Informática, programadores, contadores, etc.
Qué exactamente es el crowdsourcing?
En el libro Bold el autor lo explica de la siguiente forma.
Crowdsourcing significa, tomar una función alguna vez realizada por los empleados, y externalizarla a una gran red anónima de personas.
Es especialmente útil para trabajos con demanda periódica. Si una empresa no tiene una necesidad constante de algún servicio, no le conviene contratar a un experto ya que eso implicaría que le pagaría sueldo sin poder darle un trabajo constante. Es en estos casos que el crowdsourcing es una buena opción. Pero no es el único escenario.
Estamos en la era de la información, en donde muchos negocios estan sujetos al crecimiento exponencial. Pero el crecimiento exponencial puede ser difícil, especialmente si la empresa no tiene la infraestructura y mano de obra necesarias. Afortunadamente el crowdsourcing brinda la opción de contratar a miles de profesionales con unos pocos clicks del mouse.
Un poco de historia
Las redes de crowdsourcing como freelancer empezaron a tomar forma cuando los diseñadores desempleados, en busca de trabajo, comenzaron a pasar su tiempo en Internet. Estos cazadores de trabajo cibernéticos fueron la génesis del crowdsourcing.
En 2000, dos jóvenes de 19 años se dieron cuenta de que podían aprovechar el crowdsourcing a través de una competencia semanal de diseño de camisetas, el ganador recibió $ 100 y el diseño ganador vendido en camisetas en su sitio. Después de algunos años su empresa, Theadless.com hizo más de $ 20 millones por año.
El empresario Simon Clausen construyó una compañía antivirus por crowdsourcing la primera iteración de su aplicación antivirus a través de una compañía india. La compañía india sólo cobraba $ 1000 para hacer el programa, su compañía, llamada PC Tools alcanzó un valor de $ 100 millones antes de que lo vendiera.
Aquí la vista de un proyecto nuevo en Freelancer.com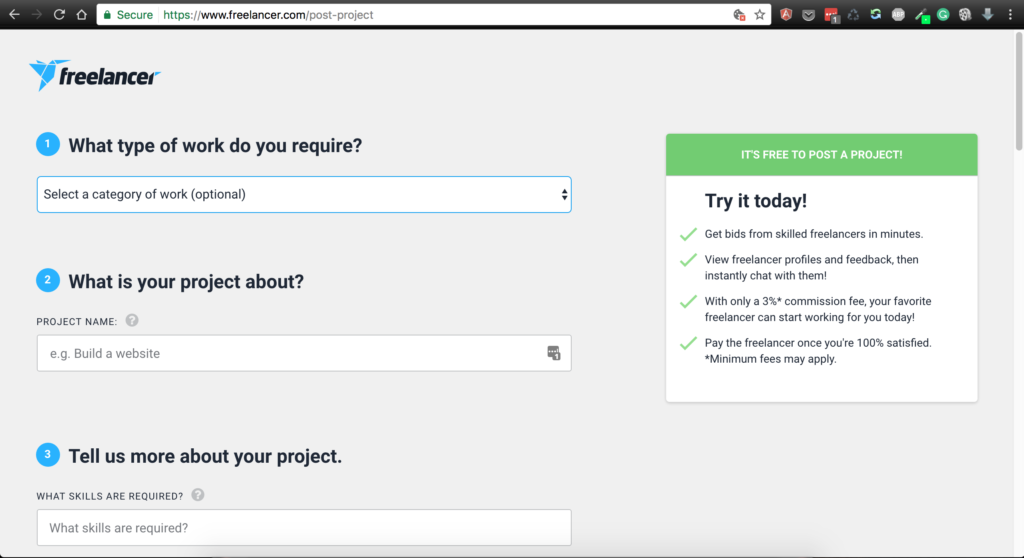 Aquí unos de los 84 diseños que recibí por un proyecto de 50 euros.
Conclusión
El crowdsourcing es una buena opción para recurrir rápidamente desde cualquier lugar del mundo a servicios de alta calidad. Uno hasta puede recibir un reembolso si no esta satisfecho con los resultados obtenidos. Hay muchas plataformas de crowdsourcing, FREELANCER es solo una, pero probablemente la más popular.
Espero que esto ayude.
Karl
[continuará]

Hi there,
I often learn awesome stuff while reading and it makes me want to share that shit. That's what this site is for, hope you not just learn from it but enjoy it like I do!

Latest posts by Karl Niebuhr (see all)
---
Also published on Medium.